Activities of the department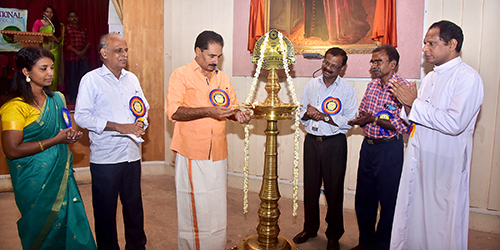 The Department of History organized various progress in addition to regular teachings. In 2013 one day multidisciplinary national seminar was organized on Women Empowerment in the 19th century, the Kerala Factor. it was sponsored by the Kerala State Higher Education Council.
2. In connection with 125Birth Anniversary of Dr BR Ambedkar and the National Law Day Celebrations, one day National seminar was organized on "Constitution of India; the changing dimension"
3. In 2017 the department organized on day seminar on dominant forces in the Historiography of India; Facts(and/or) fancies.
4. In 2018 a seminar was organized on the "Challenges to Indian Democracy in the 21st century". It was sponsored by Institute of Parliamentary Affairs , Govt of Kerala TVM.
5. In 2020 two day State level Seminar was organized on "Kollam Through the Ages". It was sponsored by Kerala Council For Historical Research, TVM.
6. Every year Department conducts invited talks on special occations.
7. In connection with Independent Day celebrations, Department conducts Inter Departmental Quiz Compation every year.